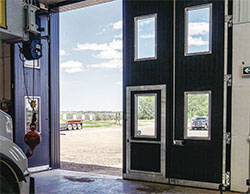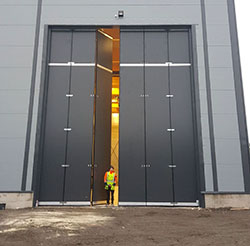 Industrial Doors by FINDOOR
No chains, springs or bulky rails. That means less moving parts and less that can go wrong.

Universal Cover is the authorized dealer of FINDOOR on Vancouver Island. Simple, made to order folding doors that have no chains, springs or bulky rails and with less moving parts they are virtually maintenance free.
They have multiple configurations with sizes up to 55' wide and 35' tall. They require very little headroom so you can maximize the size of the door in your building. Man doors and windows can easily be included in the door panels.
Installation is included and pricing is often more competitive than conventional doors - especially in the larger sizes.
Door panels are 24 Gauge steel panels epoxied to high density poly iso insulation providing R-12.5 value and a lower U-Value than overhead, bi-fold or sliding doors.
Doors are manufactured and assembled in Canada. Within the 30 years, there have been over 35,000 installations in both Europe and North America and minimal service calls a year, making FINDOOR the leading manufacturer of folding doors.
Contact us for more informaiton